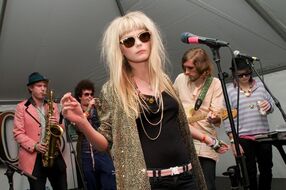 The Asteroids Galaxy Tour is a Danish experimental pop band. Formed in 2007, the band is based in Copenhagen, Denmark.
Band members
Mette Lindberg (Vocalist)
Mads Brinch Nielsen (Guitarist)
Svend Meinild (Saxophonist)
Miloud Carl Sabri (Trumpet)
Rasmus Valldorf (Drums)
Our Vision Song Contest
Edit
The Asteroids Galaxy Tour won the 1st edition of Danish Music Contest with their song "The Golden Age" and thereby got to represent Denmark in the tenth edition of Ourvision Song Contest with that song.
They managed to take a first place in second Semi-Final with 181 points. They qualified to the final, where they finished in 4th place with 156 points in the contest out of 33 countries.
Eligible to participate for
More info
Edit
For more information about The Asteroids Galaxy Tour, go to the official wikipedia link: