Creative Song Contest #1

Know The Music!

Edition number

1

Participants

19

Location

Rotterdam, Netherlands

Winner

Denmark
Aura Dione
"Geronimo"
CSC #1 was the first edition of the
Creative Song Contest
which started on September 14th, 2013. 19 countries debuted in the first edition and there were no semi finals.
Debuting, returning & withdrawing countries
Edit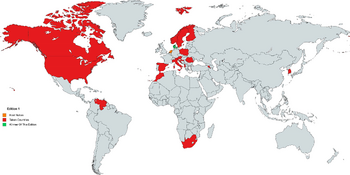 | Withdrawing countries | Returning countries | Debuting countries |
| --- | --- | --- |
| | | |
| Country | Artist | Song | Place | Points |
| --- | --- | --- | --- | --- |
| Denmark | Aura Dione | "Geronimo" | 01 | 90 |
| United States | Katy Perry | "Roar" | 02 | 87 |
| Finland | Ensiferum | "In My Sword I Trust" | 03 | 76 |
| Armenia | Sirusho | "PreGomesh" | 04 | 74 |
| Italy | Lady Gaga | "Applause" | 05 | 73 |
| Poland | Rebecca Black | "In Your Words" | 06 | 72 |
| Albania | Elhaida Dani | "Baciami E Basta" | 07 | 68 |
| Romania | Follow Your Instinct ft. Alexandra Stan | "Baby It's OK" | 08 | 67 |
| Austria | Daria Kinzer | "Stotinama Godina" | 09 | 66 |
| South Africa | Gangs of Ballet | "Hello Sweet World" | 10 | 56 |
| Norway | Alexandra Joner ft. Madcon | "Sunrise" | 11 | 53 |
| Morocco | Samira Said | "Awam Kida" | 12 | 51 |
| Croatia | Neno Belan | "Kiša" | 13 | 49 |
| Canada | Simple Plan | "This Song Saved My Life" | 14 | 48 |
| Sweden | Icona Pop | "I Love It" | 15 | 41 |
| Spain | Lauroba | "Begietan" | 16 | 38 |
| Netherlands | Jettie Palettie | "Geef Mij 'R 2" | 17 | 37 |
| South Korea | KARA | "Damaged Lady" | 18 | 29 |
| Venezuela | Caramelos De Cianuro | "Verónica" | 19 | 27 |